Liv Jetts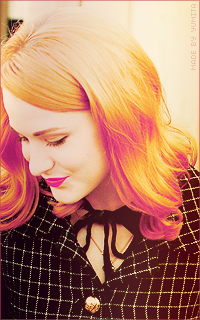 ☇Messages : 2
☇Inscription : 16/11/2011
☇Crédits : yumita FoX
☇Pseudo : Cucumber
☇Statut : Célibataire

Everybody, bottoms up!
Poste: Correctrice
Adress:
Relations trouble:

Sujet: LIV ◊ Underneath the city lights there is a world few know about Mer 16 Nov - 22:23

---

Jetts, Liv

crédits: fuckyeahevanrwood





○ turned water into wine


NOM, PRÉNOM ► Jetts, Liv. DATE ET LIEU DE NAISSANCE ► Le 3 mai 1941, Chicago. ÂGE ► Vingt-deux ans. ORIGINES, NATIONALITÉ ► Américaines, Américaine. FONCTION ► Correctrice. STATUT ► Célibataire. TRAITS DE CARACTÈRE ► Citez un minimum de huit traits caractéristiques de votre personnage. POURQUOI THE CHICAGOES ET PAS UN AUTRE MAGAZINE ? ► Liv a toujours voulu travailler là-bas. Toute petite déjà, elle piquait en cachette le magazine à ses parents. Ce qu'elle préférait, c'était les pages traitant de la mode. Elle ne souhaitait qu'une chose : pouvoir s'habiller comme les jolies dames qui prenaient la pause sur le papier glacé. Bien sûr, avec le temps, Liv a appris à apprécier le magazine à sa juste valeur. Elle avait passé candidature en tant que reporter mais, à cause de son jeune âge et de son manque d'expérience, la jeune femme avait été recalée. Malgré tout, elle avait quand même réussi à attirer l'attention et avait donc obtenu un travail en tant que correctrice. Ma foi, c'était toujours mieux que rien ! GROUPE ► Staves.



○ sparkling through the dark night


Etablissez une liste qui pourrait définir votre personnage, que ce soit par ses manies, ses caractéristiques, ses tatouages, ses piercings, son apparence physique, son mental ou bien par son passé, ou ses allergies. Vous êtes très libres dans cette partie, c'est pourquoi nous vous demandons un minimum de huit points importants.



○ footprints in the sand


Place aux choses sérieuses. Dans cette troisième et dernière partie, vous serez confrontés à une épreuve que vous connaissez bien : l'anecdote. Celle-ci devra faire au moins une trentaine de lignes. Vous êtes libres d'en faire plusieurs si vous le souhaitez mais n'oubliez pas que votre principal objectif est de lancer le RP le plus vite possible et de ne pas s'attarder trop sur votre fiche. Ce serait bête de dépenser toute son inspiration dans sa fiche et arrivés à la validation, de ne plus pouvoir RP.



○ he made love a crime


PSEUDO/PRENOM ► Cucumber/Marion. AVATAR ► Evan Rachel Wood. COMMENTAIRES/DEDICACES ► Mamamia !
Theo Harlow
• sympathy for the devil



☇Messages : 15
☇Inscription : 10/11/2011
☇Pseudo : cw


Sujet: Re: LIV ◊ Underneath the city lights there is a world few know about Mer 16 Nov - 23:39

---

J'aime beaucoup le prénom, bon courage pour ta fiche
Maude Seidenglanz
✒ BEAUTIFUL DISASTER


☇Messages : 86
☇Inscription : 07/11/2011
☇Crédits : avatar ♘ calvaries + gif ♘ gifsforskins@tumblr
☇Pseudo : rosieslullaby

Everybody, bottoms up!
Poste: stave (delivery) ♘ father's lunch delivery
Adress: Chicago Heights, #467
Relations trouble:

Sujet: Re: LIV ◊ Underneath the city lights there is a world few know about Jeu 17 Nov - 5:32

---

EVAN

Bienvenue
Ginger Chaplain
DEARBOY ◮ Mark my heart, throw away the key, fill my love with ecstasy.



☇Messages : 407
☇Inscription : 28/09/2011
☇Crédits : Ⓒ gingercat. (avatar) ◮ lyrics from judy bridgewater Ⓒ icons from welt-herrschaft and vanidades (lj)
☇Pseudo : Calvaries, Rusty.
☇Statut : Bientôt fiancée.

Everybody, bottoms up!
Poste: Assistante.
Adress: #697, Little Italy.
Relations trouble:

Sujet: Re: LIV ◊ Underneath the city lights there is a world few know about Jeu 17 Nov - 9:10

---

Evan.

Bienvenue sur le forum.

L'avatar t'es réservé!

_________________

❥

Mark my heart, throw away the keyFill my love, with ecstasy
Bind my heart, with your warm embrace
And tell me no one, will ever take my place
JUDY BRIDGEWATER ~ never let me go.
icons @ welt-herrschaft and vanidades
Theron Atwood


☇Messages : 61
☇Inscription : 06/11/2011
☇Crédits : myself (avatar) beforeaskarsihadalife (signature)
☇Pseudo : caramouse
☇Statut : Married

Everybody, bottoms up!
Poste: Rédacteur, section Culture
Adress:
Relations trouble:

Sujet: Re: LIV ◊ Underneath the city lights there is a world few know about Ven 18 Nov - 9:06

---

Bienvenue
Contenu sponsorisé

Sujet: Re: LIV ◊ Underneath the city lights there is a world few know about

---